Ultimate
in

stability

Ultimateinstability is a training institute for sports coaches, physical therapists and personal trainers in the field of dynamic stability. Recently, we started doing this with the Tidal Tank. 

We believe we are here to explore our edge and learn from nature. We want to create a world where people adapt resiliently and move freely as water, because this ripples down. When we move well, we feel good and can play better.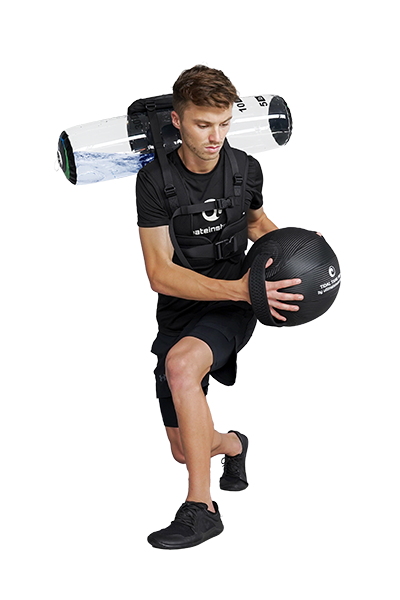 Explore your edge
Why do we train so predictable: with fixed exercises, repetitions and weights, striving for perfection, while most crucial moments in our lives happen suddenly and are unexpected and unpredictable?
Improving performance is about understanding the underlying processes; those that make us learn and revalue the outcome. Sport coaches, therapists and trainers will learn how to provide a solid base for long term performance enhancement by improving adaptability, resiliency and robustness.
Kind remarks
BE THE CHANGE
As physiotherapist of the Swiss World Cup ski team, my goal is to get the athletes as fit as possible and to prevent injuries or drop-outs. The products of ultimate instability help me with this and offer endless training possibilities. Training with these tools is challenging and a lot of fun. Because of the light and compact size, the products are easy to carry. The amount of water in the bags or balls can easily be adjusted on the spot so that the impact of the water can be regulated. Get to work and feel the difference of those amazing products. Give it a try yourself!
Using the Ultimateinstability products have enhanced my performance and prolonged my baseball career. I move better and more efficient. Making the body robust and ready for unexpected impact during competition. The chaos and unexpected patterns of the water inside the tubes makes every work-out session challenging and fun while building and making the attractors in the body more stable! During the most simple tasks of high level sport specific exercises you are creating a robust and anti-fragile body. It forces my mind and body to get out of its comfort zone in order to grow and become robust!
Training with engagement lead to performance gains and Aquabags provide automatic engagement through the dynamic stability the Aquabag and ball challenge you with. Tennis is a sport that requires athletes to get into unstable positions where the athlete has to adapt quickly. The perturbations and ability to handle the instability allows me to help develop more resilient and adaptable athletes. I use the equipment in the gym, and on the court, able to blend general and sport-specific exercises nicely, which highlights the versatility of the equipment.
The UI products and the concept changed my perspective of 'functional training'. After 3 years of using the products, I'm still glad to learn even from Paul's posts, podcasts and Frans Bosch books. Learning a new skill becomes easier and much more fun with the perturbation of the water, and with other variabilities of a certain movement. Clients and athletes give feedback that they move better, adapt faster and they can perform better under pressure. The concept is so complex, that I can use it in rehabilitation, personal training, and even with elite athletes to become more robust.
Each size of Aquabag & Aquaball, not to mention the outstanding Hydrovest, has a unique role to play in both the development of the mechanical characteristics for the Javelin Throwers that I support and coach, but it also provides a conduit through which the biomotor qualities what we develop in the gym and out on the track can be transferred effectively into our performance, which is ultimately what we require. I can't recommend Ultimate Instability enough. It's been a game changer for me and will continue to foster the creative side of my coaching philosophy.
The use of UltimateInstability products is a no-brainer during my trainings and rehabilitations. The easy-acces and the opportunity for my athletes to achieve and maintain the highest performance at their own optimal level is extremly valueable. The unexpected perturbations during specific sports movements makes every training a challenging training which results in antifragile athletes, continuous variability and a smoother transferability towards the intended movement goal. A new era has begun when you start challenging your athlete's movements with these products.
As a Performance Specialist I work with both elite level athletes as normal people. For both I always seek for tailor made optimum care. Seeking new ways of improving movement and with that increasing perfomance or getting rid of complaints. Being a believer of Frans Bosch theory on movement I met Paul at one of his courses and was introduced to Ultimate Instability. Since then their products are my go to tools in rehab, training and performance. It gives me unlimited options to work and also to bring abroad on my travels. I am glad that Performance Guys and Ultimate Instability have connected
As a personal trainer and strength and conditioning coach of 20 years, to people of all abilities, I have taken part in many courses both in-person and online. The online Ultimateinstability L1 and L2 Agility and Running courses are some of the best courses I have ever done. Why? 1. Value for money 2. Accurate and simple to follow explanations of technical processe. 3. Excellent demonstrations. 4. Time efficient; Paul Venner describes the benefits and reasoning behind using the Ultimateinstability equipment very well. Allowing you to practice and transfer what you've learned to your training and training of others immediately.
Harness the power of water.
Stay on top of movement education.
Sign-up for a free e-book and learn more.